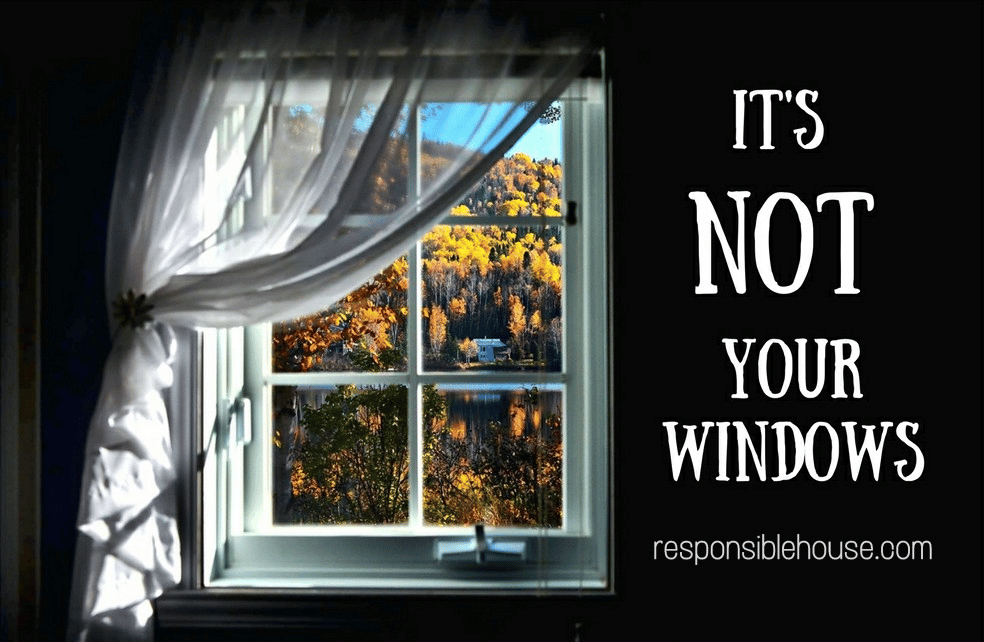 There seems to be an assumption out there that your high heating bills and drafty house are caused by your windows and the solution is to replace them. The trouble with this is two-fold.
First, even the best windows will not perform significantly better than the ones you have. The most expensive, most insanely technical and energy efficient window out there is the equivalent of an R7*. Ordinary windows are the equivalent of an R2 to R4. For comparison, the typical attic with poor insulation is a R20. Our retrofits with air sealing and proper insulation have taken our clients between R38 and R50. This is a significant improvement. Glass, no matter how new or how well engineered is not going to resist heat transfer very well. It may very well be that your windows and doors need some repair, or air sealing around gaps, sills and framing. If you feel a "breeze" near your windows, some silicone sealing or repair may help. This is something we check during our 11-step energy audit.
Secondly, the cost of replacement windows is so high that it is difficult to see a return on your investment. There are holes in your house that can be sealed, and that investment easily sees a return. Let's take an example. A regular window is 12 square feet. On the low end this would cost you $300. That is $25 a square foot – and that's on the very inexpensive, vinyl replacements. You can easily spend up to $75 per square foot for a good-quality replacement window. To air seal and properly insulate a square foot of your attic or crawl space or walls would cost around $3 per square foot – yielding a much higher efficiency per square foot as well. In short, replacement windows will not pay you back with energy savings, but the air sealing will.
There are reasons to replace windows. We have replaced almost all the windows in our home in the last 15 years. Some were no longer safe, some were inoperable and could not be opened. We also remodeled our kitchen and changed our counter height, so our old window wouldn't fit. We've replaced some for pure aesthetics. We love our newer windows, but they are not saving on our energy costs.
*Let's talk about R-value (called U-value for windows – an inverse of R – but that might be a bit too far down the rabbit hole). R-value is a measure of resistance to heat flow a material has based on its makeup and thickness. The temperature of your air (heat) is trying to leave your house and it will do it through your walls, doors and windows. The higher the R-value the more resistance the heat is meeting.
#benefitsofinsulating #benefitsofairsealing #energyefficient #crawlspace #energyaudit #insulation #attic #airsealing